This deliciously easy, two minute golden milk will make your gut, brain, heart and muscles happy.
I hope you all enjoyed all the guest posts here. Thanks again to Jess, Sarah and Katie for taking the reins! Today I'm easing back into real life and getting back on track with my usual habits. What better way to kick start a Monday back from vacation than with a gut-healthy beverage that fits with this month's Recipe Redux theme:
Probiotic Cocktails and Gut-Health Mocktails
We're seeing probiotic cocktails and gut-health mocktails popping up on trendy drink menus. Show us your favorite way to bring these healthy beverages onto your own kitchen cocktail menu.
A little over two months ago, I tried my first sip of Golden Milk at this cute little food truck in Austin. I instantly fell in love with the refreshing beverage and decided to learn how to make it at home.
I thought it would require a lot of ingredients and ton of brewing. NOPE. It takes five ingredients and all of two minutes to make!
What exactly is Golden Milk, you ask? It's a combination of milk (usually coconut milk but I opted for almond in this recipe) and turmeric. You know turmeric as the spice that gives curry it's yellow color.
So why the heck would you mix turmeric into milk? Well, for one, it's delicious. And two, turmeric is PACKED with healthy properties. It has anti-inflammatory compounds, making it great to ingest after a long run. It's said to help protect against heart disease, can help boost brain function, and can possibly even help with depression. Those are just a FEW of the benefits turmeric is said to have.
This drink is so incredibly refreshing on a hot day or after a serious workout. I'm thinking this is going to be my new post-workout recovery beverage!
Some people brew their golden milk, but I found all the flavors mixed together perfectly just by blending everything together quickly.
Moral of the story is: put all the ingredients in a blender, give a whirl, and you're good to go. It couldn't be easier.
Ready to give it a try?
Easy, Two Minute Golden Milk (vegan)
Ingredients
1 1/2 cups almond or coconut milk
1 tsp ground turmeric
1/4 tsp ground ginger
1/2 Tbsp pure maple syrup
pinch of black pepper
Instructions
Add ingredients to your blender.
Blend on high for about a minute.
Pour into a glass and enjoy plain or over ice.
https://fitfulfocus.com/easy-two-minute-golden-milk-vegan/
If you're on the lookout for other probiotic cocktails and gut-healthy mocktails, check out all the recipes in this month's Recipe Redux link up!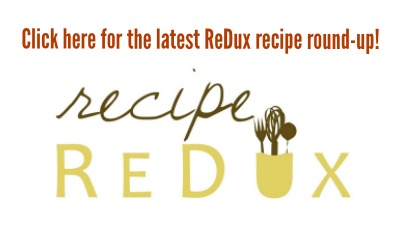 Let's Chat:
Have you ever tried golden milk?