This gluten free pumpkin maple bacon oatmeal will make you swoon. It's the perfect sweet and savory breakfast you can whip up in minutes.
When I lived in New York City, I used to frequent a glorious place near Washington Square Park called Oatmeals. Yep – it's a restaurant dedicated to oatmeal.
Go ahead, take a second to drool over their menu.
The first time I went, it took me a LONG time to decide what kind of oatmeal I wanted. Sweet? Savory? Sweet AND savory? Decisions decisions. I finally decided on the Pumpkin Maple Bacon Oatmeal, and to this day it's one of the best decisions I've made in my life.
Fast forward a few years to a cold and dreary week in Austin, Texas. The chilly temps had me craving something warm for breakfast. I know. I didn't go with my typical smoothie! Who am I?!
I found oatmeal in my pantry and instantly had flashbacks to the amazing pumpkin maple bacon oatmeal I used to get all the time in New York. Could I recreate my favorite Oatmeals oatmeal? I had to try.
A few minutes later, my copycat Pumpkin Maple Bacon Oatmeal was born.
Not to toot my own horn, but I totally nailed it. SO DARN DELICIOUS!
It's savory. It's sweet. I'm pretty sure angels flew into my microwave to give it an extra touch of AWESOME!
This goes without saying, but it'll change your life.
Gluten Free Pumpkin Maple Bacon Oatmeal
Ingredients
1/2 cup gluten free oats
1 cup water
contents of 1 pumpkin spice tea bag* (I cut open a Trader Joe's Pumpkin Spice Rooibos tea bag, see notes for substitutions)
1/4 cup pumpkin puree
2 slices bacon, cooked and crumbled
drizzle of pure maple syrup
Instructions
Mix oats and the contents of the pumpkin spice tea bag together in a bowl.
Add water to the bowl and cook in the microwave for 1.5 - 2 minutes (or according to oatmeal package directions).
Carefully remove the oats from the microwave. Allow to sit and fluff up for about a minute.
Top with pumpkin puree and bacon crumbles.
Drizzle maple syrup all around the oats, pumpkin, and bacon.
Enjoy the heavenly deliciousness.
Notes
*If you don't have pumpkin spice tea bags, you can use pumpkin spice or just a sprinkle of cinnamon and nutmeg.
https://fitfulfocus.com/pumpkin-maple-bacon-oatmeal-gluten-free/
Love pumpkin recipes? Your in luck because this month's Recipe Redux theme is "fresh from the pumpkin patch." Click the link below for all the pumpkin goodness.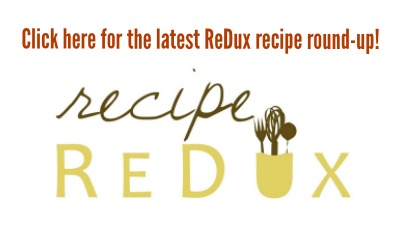 Let's Chat:
What's your favorite type of oatmeal?
Are you a sweet person or a savory person?